The following is an opinion piece, intended to generate some discussion about Australia's food security:
Australia's food security is under threat from our government blindly following the free trade addenda. In theory Free Trade create an interdependence among nations reducing the risk of wars between nations. The Australian government obviously doesn't believe some aspects of this theory as it is planning to spend billions of dollars on defense hardware in coming years. In times of conflict, a countries ability to feed itself is fundamental to its security. There is no point in having a strong defense force if we depend on hostile countries for our food supply. The current mining boom is bringing people into the country to dig holes but doing nothing for our long term sustainability. Booms are always followed by busts, when the current boom ends we could find ourselves unable to feed ourselves if we continue to ignore the challenges faced by our farmers. Horticulture producers, those who produce the fruit and vegetables that health authorities recognise as essential to our national health could be wiped out by current government policies. This website aims to help raise the issue of food security through Agritourism and by providing links to other relevant content. Barry Green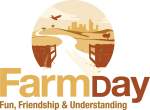 From Lucinda (Cin) Giblett and family
Newton Orchards
Lot 1 Franklin St

I think you all should know that Aussie fruit markets will soon be filled with Chinese, NZ, Chilean and American apple imports, even though as it is, at the moment we are struggling to get the prices we need to stay afloat. Rising production and labour costs, coupled with low consumer demand and increasingly stringent supermarket specs all contribute to making this business more challenging every year.

SO WHY allow in more fruit from overseas?!

Simply put, imports are the result of free trade agreements. Well, I'm all for trade, but let's ensure it's fair. China, NZ, Chile and America all have pests and diseases that we are currently free of in W.A. And some parts of Australia. As soon as they "prove" they can guarantee their produce is pest and disease free, it will be allowed in. It's only a matter of time, and the reality is, it's a huge risk for us to be taking. Especially when we already have enough fruit to keep you all in apples, all year. And don't even get me started on the impact new diseases would have on our environment, production methods, and the global reputation of our Australian industry as clean and green....

My online petition and Facebook campaign is the first of a series of responses to the imports that are undoubtedly coming in the very near future. If I can't stop the imports, I CAN make a stand for Australian produce, especially LOCAL PRODUCE, and the clean, green environment it comes from. Link below, show your support if you feel it by signing. If you desire, feel free to copy and paste this email into a new message and forward it to like minds.

http://www.gopetition.com/online/35613.html

Facebook fanpage: NOT MADE IN CHINA: the taste of AUSTRALIAN APPLES.

My family is passionate about providing you all with delicious, fair fruit. So please, BUY LOCAL, support Aussie growers, and you'll go a long way to guaranteeing our industry beats the imports and comes out the other side stronger than before.

Best regards,

Lucinda (Cin) Giblett and family
Newton Orchards
Lot 1 Franklin St
Manjimup 6258 WA
P +61 (0) 8 9777 2004
F +61 (0) 8 9771 2739
M +61 (0) 402 119 154
E lucinda.giblett@newtonorchards.com.au
E2 info@newtonorchards.com.au
W www.newtonorchards.com.au