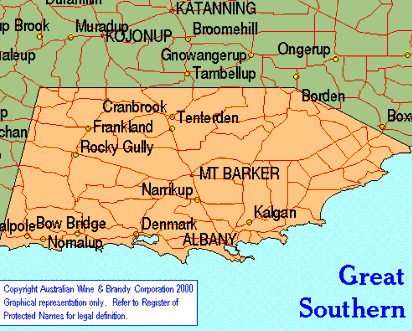 When you feel like a change, the Porongurup Range boasts many small, family-owned wineries, where you can meet the people who grow the grapes. Most vineyard owners would be delighted to allow you to walk among the vines, set in spectacular mountain scenery with picnic and barbecue areas provided. Explore other wineries of the Great Southern from the following links:
Great Southern Wine Producers Association The Great Southern features dramatic forested cliffs pounded by the wild Southern Ocean intermingled with cosy coves and calm bays. Coastal and country towns are steeped in the history of early European settlement. Rolling pastoral landscapes and majestic mountain ranges are home to a rich variety of flora and fauna and fine wines are carefully crafted

Abbey Creek Vinyard On the slopes of the northwest hillside just beyond Portland's urban heart lies this picturesque, family-owned Vineyard.

Alkoomi Wines
Bunn's Vineyard
consistently produces premium quality shiraz and cabernet sauvignon fruit using biodynamic viticulture to create authentic wines using natural wild yeast with no preservative.
Castle Rock Estate
is located on the northeast face of the Porongurup mountain range 40 km north east of Albany and 30 km southeast of Mt. Barker. Along with its unique culture of wineries, crafts and accommodation, the Porongurups National Park provides a natural scenic beauty.
Chatsfield Wines
Due South
Duke's Vinyard
Fernbrook Estate Wines
Ferngrove Vineyard
Forest Hill Vineyard
is a proud family owned boutique winery creating exciting wines of the highest quality. Each is made to be a true reflection of the premium Western Australian grape-growing region of Mt Barker
Frankland Estate
is a family owned and operated winery located in the remote Frankland River region. We seek to make complex, well balanced wines that offer an authentic expression of varietal character and also have 'sense of place' reflecting the distinctive viticultural features of the Frankland River region.
Galafrey Wines
Garlands
Gilbert Wines
In 2000, the Gilberts Riesling was awarded three trophies at The Qantas Mount Barker Wine Show. The first time in the shows history that a Riesling was awarded "The Best Wine of Western Australia". Jim and Bev Gilbert are proud to continue the journey of producing great flavours from the Great Southern of Western Australia.
Harewood Estate
Howard Park Denmark
Jardee
Jindi Creek
Jingalla Wines
Karrivale Wines
Karriview Wines,
Lincoln & Gomm Wines
Mariners Rest Wines,
Marribrook Wines,
Matilda's Meadow,
Merrebee Estate
Millinup Estate
Sit on your secluded verandah overlooking the sweeping panorama with a book and a glass of our own fine wine, roam the 160 acre farm and vineyard or, if you're feeling energetic, climb the peaks in the adjacent Porongurup Range or nearby Stirling Range.
Montgomery's Hill
Mount Trio Vineyard
is a family venture established in 1989 by winemaker Gavin Berry and his wife Gill Graham.Gavin's long-held love for the land and agriculture, developed as a child growing up on a northern NSW wheat farm, was the driving force behind the venture, and today Mount Trio represents a very personal expression of the Berry family's life.
Nelson Touch,
Old Kent River Vineyards
are located in the Great Southern wine region of Western Australia, where they receive the cooling influence of the Southern Ocean 50 km to the south
Oranje Tractor Wines
we do things a little differently. You won't find us using pesticides, herbicides and an array of synthetic fungicides to grow our grapes. And you probably won't see us at the usual chain liquor stores. We produce only a small quantity of wine from our sustainably-managed organic vineyard in Albany, Western Australia, and we prefer to deal with our customers on a one-to-one basis.
Plantagenet Wines
embodies the best of the west with its distinctive wines of finesse and elegance. As a pioneer of the Great Southern region, Plantagenet's reputation is celebrated for its rich heritage, its expressive wines and family-owned sensibility, making it one of the most trusted wine brands in the country.
Somerset Hill Wines
Wines for discerning palates
Springviews Wine,
3 Drops Wines
began with a family farm and a vision- a vision to produce premium wines and olive oil whilst maintaining the integrity of the land for generations to come. Southwest of Mount Barker in the heart of the acclaimed Great Southern wine region of Western Australia, vines and olive trees flourish side by side in the cool, pristine climate.
Tingle-Wood Wines,
Trevelen Farm Wines
"Trevelen Farm is a family-run business based on environmentally sustainable principles both in the home vineyard and at the various vineyards used in the northern part of the Great Southern. Riesling continues to be a strong variety for this producer, the recent development of the reds has been most impressive..."Ray Jordan
Wadjekanup River Estate,
West Cape Howe Wines,
Wignalls Wines
was established on the outskirts of the City of Albany in 1982, after extensive research and investigations into "Terroir" by our founder Dr Bill Wignall and close family friend Mr Tony Smith.
To list your business or community group on this website please see our Link Policy