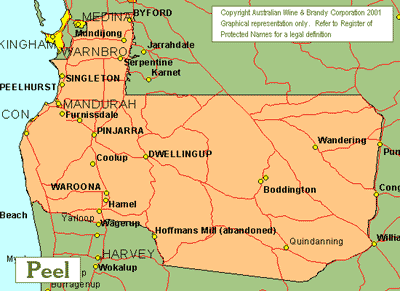 Cape Bouvard Winery
Drakesbrook Wines
Nestled between the rolling hills of the Darling Scarp, with views across the plains to the Peel inlet in Mandurah lies the stunning Drakesbrook vineyard property. Neighbours include Lake Naverino dam, a popular skiing and fishing location, dairy farms and National parkland - all just a short drive from the pretty south west town of Waroona located less than 2 hours from Perth.
Hotham Ridge
You will find the Organic/Biodynamic Hotham Ridge Winery about one and half hours south east of Perth, on the Wandering-Pingelly Road, in the heart of the world-renowned West Australian wine producing region
Lake Clifton Vineyard & Winery
Newbliss
Just over 30 minutes from Mandurah and situated in the heart of the beautiful jarrah forest, Dwellingup is a town enveloped by earthy and historic charm. The Newbliss Winery reflects this magnificent environment with good service, good food and GREAT wine.
Peel Estate Winery
Established in 1973 by Will Nairn who continues to delight wine connoisseurs with his remarkable range of red and white wines produced on coastal limestone country in Baldivis which is about 70km South of Perth
Plavins Vineyard
Riverbrook
Tuart Ridge
Wandering Brook Estate
Picture it, sitting on the verandah of an old style rammed earth and jarrah timber winery set into the hillside, surrounded by nature at its picturesque best. Grape vines, a hay crop and quiet chirping of of the resident bird life all offer the backdrop of peace and serenity. Couple this with the latest chardonnay and perhaps a ploughman's lunch or a savoury platter and you have the perfect excuse to escape for the day.
To list your business or community group on this website please see our Link Policy