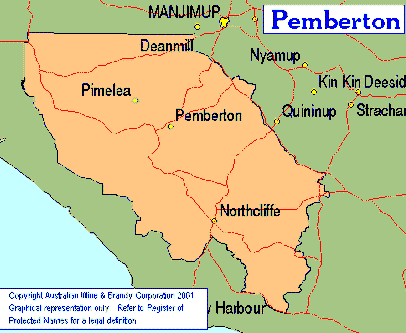 This Wine Region is centered on the historic and scenic town of Pemberton
Fonty's Pool Wines
Premium sites within the original vineyard have been selected to create wines which emphasise their regional characteristics. The grapes are vinified under the direction of our experienced winemaker Bernie Stanlake who is crafting a unique signature to make Fonty's Pool one of Western Australia's most distinctive wineries
Piano Gully Vineyard
Batista
Donnelly River Wines
Established in 1985, the property is 36km from the picturesque town of Pemberton on the Vasse Highway, and was the first winery to be established in the region.
Hidden River Estate
Phil and Sandy Goldring have been involved in the tourist industry in this beautiful area for more than twenty years. They have combined their winery/cafe with the essence of what Pemberton is all about - a place where you can have a bit of fun, relax and enjoy some laid-back music, magnificent water/forest views, great food (cooked using mainly local produce) and our selection of handcrafted boutique wines. All of this in a friendly and relaxing atmosphere where you will want to come back time and again.
Lost Lake
nestles in the valley of Eastbrook, an area identified by Dr John Gladstones (Senior Agronomist, Department of Agriculture, Western Australia) as being an excellent area for wine grape production due to the higher altitude and rich loamy/gravel soils. The area also receives higher than average rainfall and has long warm days with cool nights.
Merum Estate
Mountford Wines
Early pioneers of the wine industry in the South West of Western Australia, the Mountford family selected Pemberton with its high winter rainfall for the unique flavour potential possible from this cooler and largely forested region.
Picardy
Salitage Wines
Salitage is a premium fine wine producer located in the beautiful and spectacular viticultural region of Pemberton, in the south west of Western Australia.
Tantemaggie
Treen Ridge Estate
Established in 1990, our vineyard is situated on Karri Loam soils in the cool climate area of Pemberton. Our vines are dry grown, hand pruned and hand harvested to ensure the best quality grapes are produced. Our wines are full of fruit flavours and are of exceptional quality so please enjoy as we have enjoyed making them for you.
The Warren Vineyard
Experience a hidden treasure offering lovely award winning AGED wines from an extensive temperature controlled cellar. The bouquet of these fine wines will greet you and tempt your taste buds. The ambiance and friendly service make it well worth a visit whilst in Pemberton.
Woodsmoke Estate
is situated in the picturesque region of Pemberton in the South West of Western Australia where the climate of dry mild summer days and cool nights produces premium wines of unique style of intense flavour.The vineyard is planted to the classic varieties of Semillon, Sauvignon Blanc, Cabernet Sauvignon and Cabernet Franc.
To list your business or community group on this website please see our Link Policy