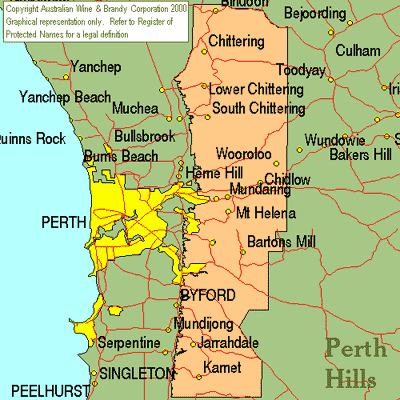 The Chitering valley wine trail


Brookside Vineyard Nestled in the peaceful & serene Bickley Valley, Brookside Vineyard is only a short drive from Perth City. The vineyard is planted on a gentle slope next to Piesse Brook and is planted with chardonnay and cabernet sauvignon varieties. Our award winning Methode Champenoise is well known as a speciality of the vineyard.

Briery Estate Set in the verdant hills of Bindoon in the Darling Ranges and about 85Km North by East from Perth WA, our vineyard is producing a variety of excellent classic and new style wines. Having said that, the red wines we produce are rich and plummy whilst the whites tend to be luscious and aromatic. Contact Ron and Chris for a wine tasting or for more information about current wines.

Carosa Vineyard
Chittering Estate
Nesci Estate Wines
Cosham Wines
Cosham Wines is a small, family-owned and operated vineyard situated in Carmel,in South West Australia. The Vineyard is located at the southern end the Bickley Valley. Planted on an old orchard that was formerly part of property owned by the Fawkes Family, the vineyard comprises of Cabernet Sauvignon, Merlot, Shiraz, Pinot Noir, Cabernet Franc, Chardonnay and Petit Verdot grapes.
Darlington Estate
Deep Dene Wines
Jarrah Ridge Winery
No strangers to wine making, Syd and Julie Pond have operated their beautiful Jarrah Ridge vineyard on their Chittering Valley escarpment block for nine years. The first plantings on the Jarrah Ridge property was six acres of Chenin Blanc in 1996. The 2003 vintage won gold, silver and bronze awards at various shows including the 2004 Swan Valley and Perth Hills Region Wine Shows.
Jylland Vineyard
is named after the Continental Scandinavian mainland part of Denmark, Jylland known in English as Jutland. The name evokes the Viking heritage of co-owner Edel Grocke, who brought with her to Australia a passion for sunshine, fine food and fresh fruity wine. Here we cultivate grape varieties that are best suited to our Mediterranean maritime climate. Chenin Blanc is the local king. The wine is crisp, zesty and a delightful complement to any food or occasion.
Kyotmunga Estate is located on an elevated site overlooking the Brockman River and the Avon Valley National Park and offers one of the most spectacular views in the Chittering Valley. It is also adjacent to the Kyotmunga walk trail.
Lawnbrook Estate Wines
Millbrook Winery
is a boutique winery situated in the historic town of Jarrahdale in Western Australia, 50 minutes south-east of the capital city Perth. The winery is located at picturesque Chestnut Farm nestled among virgin jarrah forests, with stunning vistas of the rolling landscape.
Piesse Brook Wines
Riseborough Estate
Riseborough Estate is a brand new, modern, spacious winery built on a hilltop with a cellar door that offers spectacular views across the valleys of Gingin. A Fine Art Gallery has been established upstairs with interesting and contemporary sculpture exhibitions always on show.
Walsh Family Wines
Western Range Wines
Nestled in the Lower Chittering Valley, the gently rolling hills form a tranquil backdrop to the myriad of orchards, farms and vineyards that dot the hillsides. Situated up to 300 metres above sea level, the climate and soils of the Chittering Valley are quite different to those of nearby viticulture regions. The climate is typically Mediterranean with cold, wet winters and warm, dry summers.
White Dog Farm Fine Wines
Our small boutique vineyard grew from humble beginnings in 1999 when we planted our first cabernet sauvignon and merlot vines. We hand pick and prune our vines personally with precision and care in order to produce the highest quality grapes from our limited 5 acres of vines. The expertise and knowledge of our winemaker then enables us to offer for sale through our cellar door limited numbers of vintage methodé traditonalle, rosé/light red and cabernet merlot blend.
York Wines
in the Avon Valley, Western Australia. Originally settled in the 1830's as Western Australia's first in-land settlement, York boasts one of the best preserved 19th century townships in the whole of Australia. Situated 97km east of Perth, York is a perfect day's outing.
Stringybark Winery
Restaurant and Function Centre offers a unique combination of wonderful food and award winning regional wines located amongst the vines and surrounded by natural bush and local birdlife. The location is truly special and particularly comes alive during spring with magnificent wildflower displays...and all only 50 minutes drive from Perth!
To list your business or community group on this website please see our Link Policy