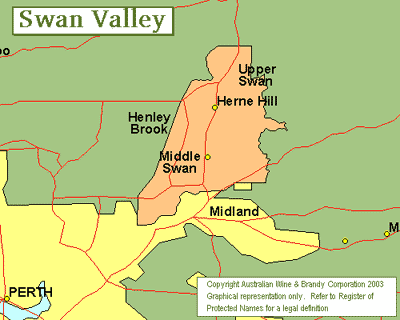 Just 30 min drive from the city of Perth and accessable via public transport, the Swan Valley is a must do of any visitor to the city.


Ambrook Wines The Ambrook Winery is a small, family owned winery situated on the banks of the Swan River with rich fertile soil and a sun drenched climate. They produce the finest quality grapes which are then crafted into the finest quality wines.

Banara Wines
Baxter Stokes Wines
A family run, quaint brick winery is surrounded by vineyards broken by the poplars & the tall trees on the Swan River's edge, opposite the high trellises of the local table grape growners
Bella Ridge Estate
Carabooda Estate Wines
Cowalla Estate Winery
specializes in excellent Shiraz wine. We use only traditional Italian method of wine making.
Faber Vineyard
Garbin Estate Wines
the Garbin family winery established in 1956 by founder Duje and Matija Garbin. Peter Garbin (Winemaker) produces a range of boutique premium varietal wines, bottle fermented sparkling wines and fortifieds from our own Swan Valley and Gingin vineyards.
Harris Organic Wines
The only certified Organic vineyard, winery and distillery in the Swan Valley producing organic dry reds and white table wines, sparkling, brandy and unique natural dessert wines.
Henley Park Wines
Highway Wines
Houghton Wine Co
Jane Brook Estate
the Atkinson family winery established in 1972. We produce a range of premium varietal wines, bottle fermented sparkling wines and aged fortifieds from our own Swan Valley and Margaret River vineyards.
Lamont Winery
Lilac Hill Estate
established in 1998, amongst the rich background of what was once the Valencia cellards dating back to 1890. The history of the cottage cellar sales tell the tales and times of back when the viticulturist would live on site of a working winery. Today, we have turned it into our cellar door area with a unique character unlike any other in the valley.
Little River Wines
In the Bordeaux region of France, the de Tastes family has a long and proud history of producing fine wines from grapes grown in the traditional manner.Bruno de Tastes brings his family's passion for winemaking to the Swan Valley, blending centuries of French tradition with Western Australia's climate and rich soil.
Mann Winery
Neroni Wines
Oakover Estate
a family-operated, boutique winery located in the heart of the Swan Valley. The historic estate was one of the original properties established in the Swan Valley in the 1830's and has been continuously used for grape growing since it was first cleared by convict labour. Some of the Swan Valley's first grapevines were planted on Oakover land in the early 1850's.
Paul Conti Wines
Since 1948, making wine is what we've grown to love and know. Our unwavering commitment to producing exclusive parcels of elegant, and most importantly, enjoyable wines that reflect the unique qualities of our terroir, is our passion.
Pinelli Wines
Pinelli Estate, nestled in the historic Swan Valley, enjoys a family winemaking heritage that dates back to 1955 when founder Domenic Pinelli emmigrated to Australia. Today the Swan Valley's second-generation winemaking team continually strive for perfection from the vineyard to the glass to create delicious, premium wines for any fine dining, family gathering or special occasion.
Platypus Lane Wines
RiverBank Estate
Sandalford Wines
The establishment of Sandalford Wines in 1840 coincided with both the first European settlement at the Colony of Perth and birth of Western Australia's world famous wine industry.
Sittella
Founded in 1998, Sittella is one of Western Australia's newest, privately owned wineries. Owners Simon and Maaike Berns have the support of an enthusiastic team of professionals to create and produce high quality traditional wine styles, from both their own and contract vineyards throughout the Swan Valley and Margaret River Region. The winery is named after a small Australian bird, the Sittella, which abounds in the nearby tree-lined Swan River.
Susannah Brook Wines
Swan Valley Wines
Talijancich Wines
Three Generations of Wine Making are behind the reputation of Talijancich Wines, which was established in 1932 and is located in the heart of the Swan Valley Region of Western Australia.Talijancich Wines are synonymous with great character and complexity and are renowned for producing Verdelho, Shiraz and luscious, aged Liqueurs.
Twin Hill Wines
has been owned and run by the Kraljevich family for over 70 years.
Upper Reach Wines
family owned and operated boutique winery, on the banks of Perth's Swan River. All our fruit is grown at our Baskerville property and the wine made on-site, in our state of the art winery. Our aim at Upper Reach is to produce wine of the highest quality from estate grown fruit, each wine reflecting both the vineyard and the particular vintage
Swan Valley Wines
Made from the finest grapes in the Swan Valley our boutique, family winery boasts an impressive range of fine Australian wines, as well as offering our wine making expertise to other growers who are seeking knowledge to perfect their own wines. We have a selection of wines for every occasion
Vino Italia
Windy Creek Estate
a family owned and operated winery located in the Swan Valley in the shadows of the Darling Range. Tony and Ruth invite you to come along for a chat and a taste of their range of wines. The cellar door is set in their family home gardens with their lovingly tendered vineyard as a backdrop.
To list your business or community group on this website please see our Link Policy