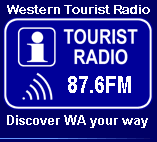 York
Nestled on the banks of the Avon River in the gently rolling farmlands of the beautiful Avon Valley, the district offers unique insights into Western Australia's rich and colorful past, both before and following European settlement in 1831. York was the first inland settlement in Western Australia, and the town has maintained a vibrant spirit among its many Victorian and Federation buildings. An abundance of local activities and facilities make it an attractive destination and a fantastic place to live.
Western Tourist Radio is keen to swap links with any businesses in the York area that offers a service that might be of interest to visitors to the area. From accommodation and attractions to unique products and services. For further information please see our Link Policy
Visit the Courthouse and Gaol complex. Buildings date from the 1840s and include two courtrooms, police station, troopers cottage, gaol cells and stable yard.

Mount Brown Lookout. Mount Brown is 342m above sea level, is within five minutes of the York town site. Mount Brown provides a beautiful 360 degree panoramic view of York and its surrounds. It is also a wonderful setting for a picnic and barbecue.

Swinging Bridge. The first temporary bridge over the Avon, built by convicts around 1853. The bridge has been rebuilt from time to time and was finally reconstructed in 1988. The original swing bridge, built in 1889, at this location was completely rebuilt to a modified design in 1988 due to safety concerns.

The Residency Museum. Originally part of York's Convict Hiring Depot. With displays changing regularly, there is always something new to see. Activities for families – croquet, discover the feely box, try out a stereoscope and lots more!

Some unique Shopping. The York Mill Gallery; York Olive Oil Company; The Sock Factory; Perts Pantry; Penny Farthing Sweets.

| | |
| --- | --- |
| | Quellington School House Farmstay is a creatively renovated, fully self-contained old school house overflowing with added extras. Nestled in the picturesque Avon Valley on a large working farm, you will relax and unwind as you enjoy the animals, bush walks and idyllic peace and quiet. |
Unique West Australian products, gifts and souvenirs