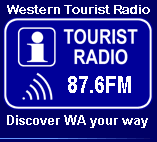 WTR Bookshop


Independent booksellers in Western Australia stocking West Australian Authors





On Western Tourist Radio, programs we feature interviews with local Authors in our Local Talent Time segments. To help you find their books at local bookshops we have created this WTR Bookshop to help you to find local books as souvenirs of your visit to WA.

The Margaret River Readers & Writers Festival on June will be of interest to anyone with an interest in literature. Nina Smith Author provides a proofreading and editing services, for a professional edge.

If you operate an Independent Bookshop in WA and wish to join us to help promote the writing talent of West Australians, please email Barry Green barry@touristradio.com.au or
call 08 9731 7006


Click on the blue town names for more information about each town or the business name to go direct to their website.