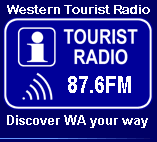 Perth Home : Things to Do : Places to Stay : Products & Services
One of the best parts of travel is the local food experiences. We are lucky to have a great food heritage in Western Australia resulting from migration from all over the world. There is growing interest in local foods driven by Farmers Markets and the Slow Food movement . SLOW Food Perth is a convivium of Slow Food, an international not-for-profit organisation founded in 1989 to counteract fast food and fast life, the disappearance of local food traditions, people's dwindling interest in the food they eat, where it comes from, how it tastes and how our food choices affect the rest of the world – people, communities, animals, plants and the environment. With all this choice, why would you want to eat at the products of the fast food joins that guarantee to be the same wherever you travel on the planet?
At Western Tourist Radio we are looking for great culinary experiences to promote via this website, here's a start:
Thanks to its outstanding CBD location, The Terrace Hotel restaurant is a great place to enjoy Perth's growing food and coffee culture while you dine in style. The Terrace Hotel offers some of Perth's most sought-after dining experiences with internationally recognized standards for service and cuisine.
Have a leisurely breakfast before work, or grab something to go from our coffee cart on weekdays, along with a $3 coffee – available all day, every day.
Maurizio Restaurant

As one of Perth's premier dining establishments, Maurizio Restaurant has built a reputation for providing authentic Italian cuisine and a high standard of service, in elegant surrounds, all with a good dose of Italian charm. Our various menus are sure to satisfy your needs and your taste buds, whether you are booking for an intimate dinner, a family celebration or a corporate function.
Himalayan Nepalese Restaurant and Cafe
To promote you unique restaurant of cafe on this site, please email barry@touristradio.com.au