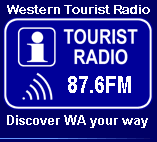 Restawile Motel Busselton is ideally located just 4kms from town centre on Bussell Highway. We offer a accommodation at budget prices and only a few mins walk to Geographe Bay beach-front, and a 2 minute drive toi the Busselton Health Campus It is also a great base from where you can discover Busselton, Dunsborough and the world renowned Margaret River wine region. Payment will be taken upon booking.
Four Elements Farmstay Our two bedroom chalets offer luxury accommodation for up to six.
Busselton Marina Bed and Breakfast is a self contained BnB apartment catering for up to 4 adults and is 500m from the golden sandy beaches and sparkling blue waters of Geographe Bay. We are a 5 min stroll from the Sensations Cafe at the Marina Entrance.
Togg's Cottage , this freshly renovated fifties beach bungalow, is a relaxing and comfortable base from which to explore the beautiful cape to cape region.
The self contained cottage, adorned with antiques, is fully equipped with fridge, dishwasher, TV, DVD, microwave and laundry facilities.
Grangeview Guesthouse "Looking for a place to stop and smell the roses. Relax and breathe in some fresh country air.....
Make Grangeview your home away from home for a relaxing getaway for you, your family and your furry friends".
Paradise Motor Inn is located in the centre of Busselton with quiet, comfortable surroundings. Catering for a wide range of travelers, our warm hospitality, friendly staff and clean and comfortable rooms will ensure your stay with us will be pleasurable.
Toby Inlet B&B Is a custom-built unique accommodation with friendly and relaxed atmosphere in the heart of the South West Wine Region
Kookaburra Caravan Park just a 2 minute walk to the town centre, Busselton Jetty, safe swimming beaches and local hotels.
Boronia Farm Farmstay Donnybrook Phone (08) 9731 7154
Mandalay Holiday Resort & Tourist Park
Special Interest Accommodation, Pet Friendly, Farms, Stations , Bed & Breakfasts, Organic farms, Golf Resorts, places with disabled facilities, Self Contained Holiday Homes and more in WA
If you wish to list your business on this site please see our Link Policy