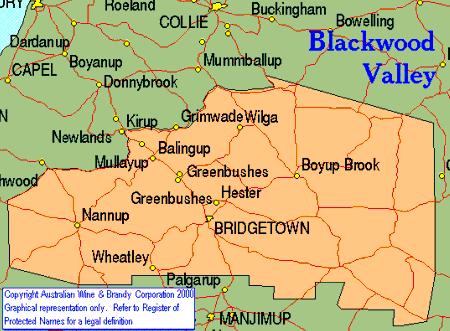 Undoubtedly the most scenic wine region in the state of Western Australia, the Blackwood Valley is home to 16 wine producers and 50 vineyards with plantings in excess of 450 Hectares of premium varieties. The most prominent grape varieties of the region include Cabernet Sauvignon, Shiraz, Merlo, Chardonnay, Sauvignon Blanc and Semillon, with smaller plantings of Riesling, Viognier and Pinot Noir.
Taste of the Blackwood is the major wine and food festival in the Blackwood Valley Region held in August.
You can visit some the the wineries and towns where they are located with the links below go direct to the Blackwood Valley Wine Industry Association . Map Courtesy of Australian Wine & Brandy Corporation;

Barwick Wines
Blackwood Crest
Blackwood Wines
Lauren Brook Winery
Scotts Brook
The venture began in 1987 as only the second commercial vineyard in the district. The first vines were planted in 1987, and the first commercial vintage was produced in 1991.
Wattle Ridge
The decision to plant grape vines was made from our love of good wine and a belief that the property and position was perfect for this venture. The vineyard was first established in 1997 when we planted 10,000 Cabernet vines.
To list your business or community group on this website please see our Link Policy